20x30 Marquee Tent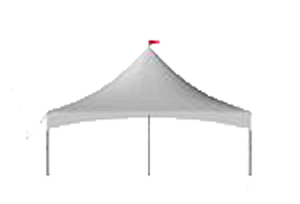 Setup Area: 22' x 32'
Actual Size: 20' x 30'
Description
Introducing our 20x30 Marquee Tent - the perfect solution for all your outdoor events! This tent is designed to provide a spacious and comfortable environment for your guests, while also protecting them from the elements. With its sturdy frame and durable materials, this tent is built to withstand the toughest weather conditions, ensuring that your event goes off without a hitch.
The 20x30 Marquee Tent is easy to set up and take down, making it an ideal choice for those who need a temporary shelter for their events. Whether you're hosting a wedding, a corporate event, or a family gathering, this tent is sure to impress your guests and provide them with a memorable experience.
The tent features a spacious interior that can accommodate up to 60 people comfortably. The high-quality materials used in its construction ensure that it is both waterproof and UV resistant, making it suitable for use in all weather conditions.
In addition to its practical features, the 20x30 Marquee Tent is also aesthetically pleasing, with its sleek and modern design. Its clean lines and neutral color make it a versatile option that can complement any event theme or decor.
Overall, the 20x30 Marquee Tent is an excellent choice for anyone looking to host an outdoor event. Its durability, versatility, and aesthetic appeal make it a must-have for any event or party. So why wait? Order your 20x30 Marquee Tent today and start planning your next unforgettable event!