Portable Evaporative Cooler 5300 CFM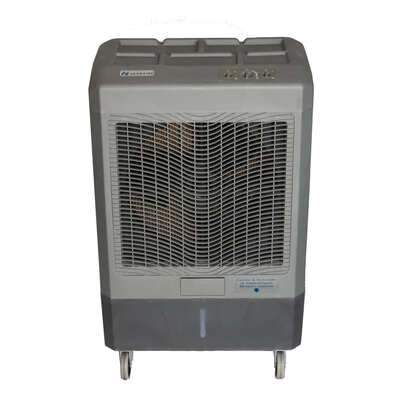 Actual Size: H 46, W 17 in, D 28
Outlets: 1
Description
Introducing our powerful Portable Evaporative Cooler, specifically designed for tent rental usage outside. With an impressive airflow capacity of 5300 CFM (Cubic Feet per Minute), this cooler is the perfect solution to keep your tent cool and comfortable even in the hottest outdoor conditions.
Designed with portability in mind, this evaporative cooler is easy to transport and set up wherever you need it. Its compact size allows for effortless maneuverability, making it an ideal choice for events such as weddings, parties, festivals, or any other outdoor gathering.
Equipped with advanced evaporative cooling technology, this cooler works by drawing in warm air from the surroundings and passing it through a set of moistened pads. As the air passes through the pads, the water evaporates, resulting in a significant drop in temperature. The cooled air is then circulated back into the tent, providing a refreshing breeze that will keep your guests comfortable throughout the event.
With a powerful fan and adjustable louvers, you have full control over the direction and intensity of the airflow. This ensures that every corner of your tent receives efficient cooling and creating a pleasant environment for your guests to enjoy.
Don't let the heat ruin your outdoor event. Invest in our Portable Evaporative Cooler and create a comfortable and enjoyable atmosphere for your guests. With its impressive cooling capacity, portability, and energy efficiency, this cooler is the perfect solution for all your tent rental needs.