White Chairs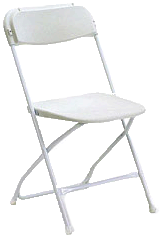 Description
Looking for chairs for your upcoming event? Look no further than our Folding White Chairs! These chairs are perfect for corporate events, and any other special occasion that requires comfortable and functional seating.
Our Folding White Chairs are made of high-quality materials, ensuring durability and longevity. The chairs are designed with a sleek and modern look, featuring a white frame and a comfortable seat. They are lightweight and easy to transport, making them ideal for outdoor events or venues with limited space.
The chairs are also incredibly easy to set up and fold down, making them a convenient choice for any event. They can be quickly and easily stacked for storage or transport, allowing for efficient use of space.
Whether you are looking to rent chairs for a small gathering or a large event, our Folding White Chairs are the perfect choice. Contact us today to learn more about our rental options and pricing.